Construction News
Tuesday, November 14, 2017
BREC to Celebrate the Completion of Renovations at Antioch Boulevard Park
Public Invited to Attend Ribbon Cutting and Open House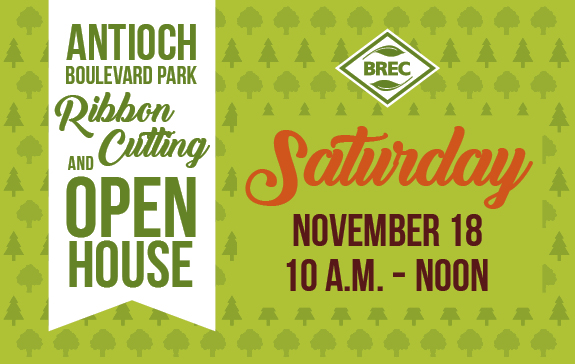 Join BREC on Saturday, November 18 for a ribbon cutting and open house to celebrate the newly completed renovations of Antioch Boulevard Park Recreation Center located at 6229 Antioch Boulevard in Baton Rouge. The dedication will begin at 10 a.m., with facility tours, recreational games and activities to follow immediately.
New features of the recreation center include new flooring, scoreboard, gym doors and retractable basketball goals in the gymnasium. Other major components to the facility include a new multipurpose room to provide additional space for programming and community activities, and completely renovated restroom facilities, with a family restroom added. Joining parks such as Anna T. Jordan and Highland Road Community Park, Antioch is yet another BREC recreation center to now have heat and air conditioning, with the addition of an HVAC system. BREC has also updated features including exterior and interior lighting, building entrance, office space and new security features to increase the level of safety at the park.
Antioch is one of the six heavily used neighborhood parks to receive major renovations to its recreation center this past year. Construction at Baker, Jefferson Highway and Gus Young have also been completed, with the anticipation for Lovett and Church Street parks, as well as others in the near future. These renovated recreation centers give new opportunities for the surrounding neighborhoods and communities through new innovating programming and events while providing a healthier and vibrant recreational experience.
The park and center is soon to be utilized by programs such as BREC Youth 360, fitness boot camps on Mondays, Adult Fitness, Senior Social programs, Tiny Steps and more. These programs are made possible through the new renovations and expansion thanks to BREC's Planning and Engineering Department along with design and contracting from Domain Architecture and construction by Russel Colman contracting, Inc.
The public is invited to a ribbon cutting followed by tours of the facility by BREC staff, outdoor recreational games, Tucker's Fun Time food truck, Red River Bank's Ice Cream truck, and more! This event is in cooperation with Shenandoah Home Owner's Association.
For more information on this event, contact BREC's Volunteer and Special Events Coordinator Ashlyn Lambert at 225-272-9200 ext. 470 or Ashlyn.Lambert@brec.org.