Construction News
Monday, April 2, 2018
BREC Transforms Former 72-Acre Golf Course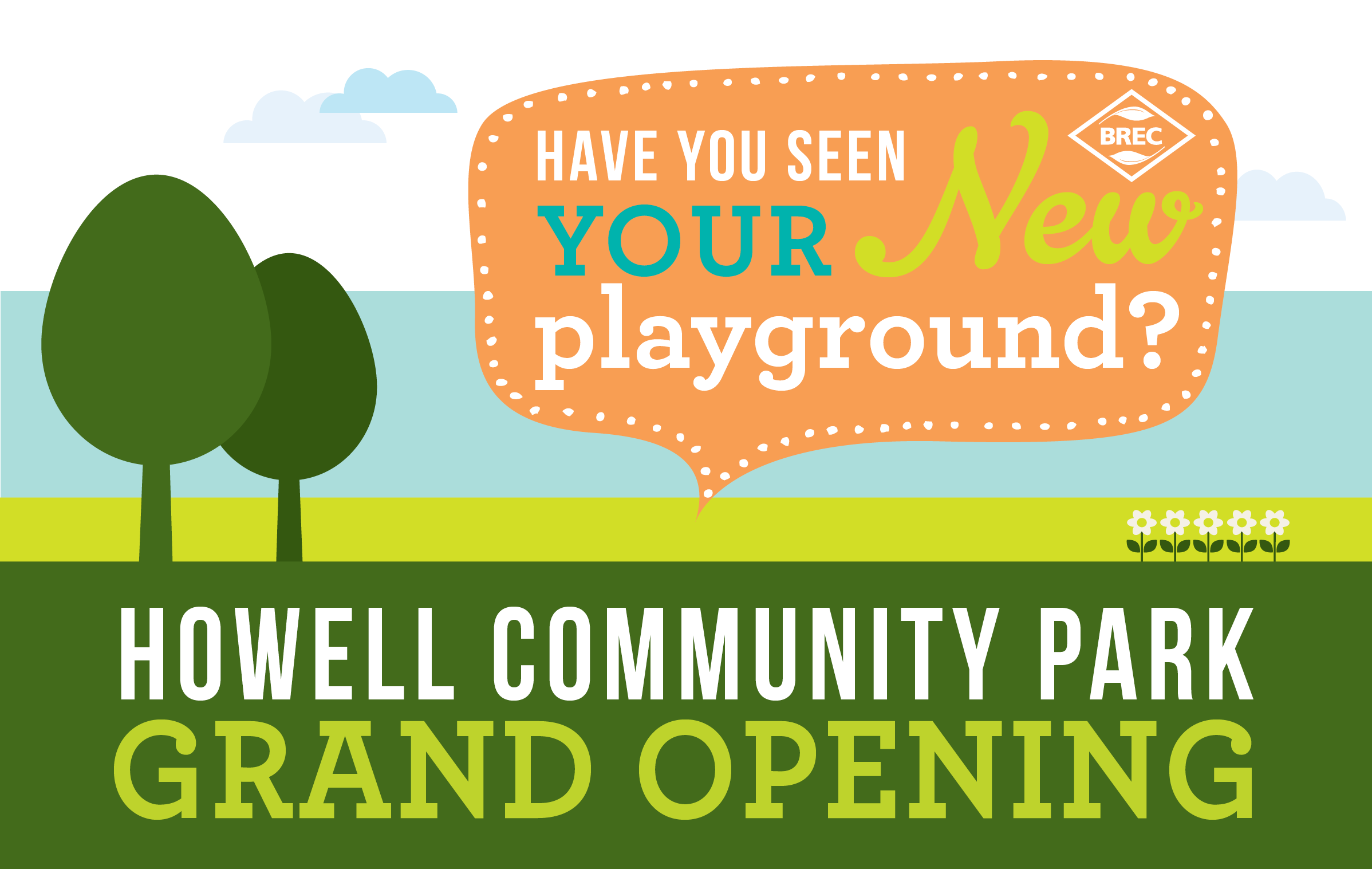 BREC recently completed construction of the first phase of a major expansion of Howell Community Park, located at 5509 Winbourne Avenue. A grand opening celebration is being held Thursday, April 5 with the ribbon cutting beginning at 4 p.m. near the new play area located off East Brookstown Drive. Guests are invited to stay and enjoy food, music and recreational fun!
The former Howell Golf Course occupied 72 acres of this location. As part of the 2014 strategic planning process, BREC invited the National Golf Foundation (NGF) to evaluate the entire golf operation and make recommendations for improvement. The NGF noted that Howell Golf Course had the lowest play of any public golf course in the United States and recommended BREC repurpose the course to make it more widely available to members of the public. After several public meetings, surveys and Commission approval, the Howell Golf Course closed in September of 2016 and despite widespread damage from the historic flood of 2016, BREC staff and community leaders held a groundbreaking for the project.
During the 2016 flood, Howell received eight feet of water, making it the worst damaged park in the BREC system. Despite the damage, BREC worked quickly to make the location safe for the groundbreaking ceremony and began working to transform the golf course into an area that will serve families all around the area and help to revitalize a community still recovering from the damage left by the high water.
This newly transformed park plans to provide an abundance of recreational opportunities through the use of the new multi-use athletic field, outdoor basketball courts, one-of-a-kind adventure playground featuring a children's zipline, large earthen amphitheater, First Tee golf training area, exercise track and miles of paved trails. The new fishing lake was also created to not only offer recreational activities like fishing and paddling, but constructed in a way that will hold more water on the property for additional flood protection of the park and surrounding areas.
To provide another dimension of positive benefits to the local community, BREC has begun a project to restore areas within the park to native, natural habitat. To date, nearly thirty pounds of native wildflower and grass seed has been distributed over 1.2 acres of the park and in 2019 another 3 acres should also be blooming with these colorful native plants. These "Grow Zones" will only be mowed one to two times a year and will save tax payer dollars through reduced maintenance costs while aiding in storm water management, flood and erosion prevention and provide native pollinator and bird habitat.
Future projects to follow include, but are not limited to, a boat rental pavilion and other lake features, new recreation center and gymnasium, more lighting, enhanced amphitheater and state-of-the-art outdoor fitness equipment.
To celebrate the expansion, patrons are invited to enjoy food, music, recreational fun, a visit from Max 94.1, kayaking, ground tours and conservation hike and more! For more information on Howell's renovations visit http://www.brec.org/index.cfm/page/HowellImprovements.