News
Monday, December 2, 2019
BREC Hosts Family Friendly Holiday Events Throughout the Parish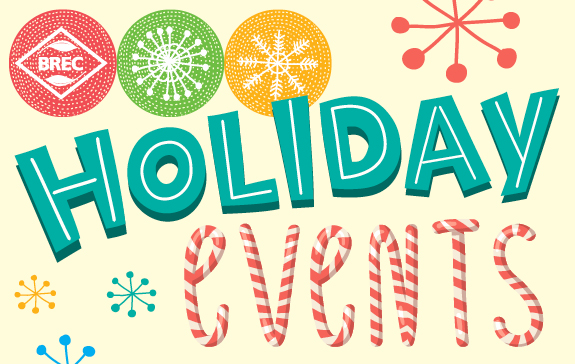 The Recreation and Park Commission for the Parish of East Baton Rouge (BREC) will host a variety of family friendly holiday events throughout the parish.
Do you need to get into the holiday spirit, then join us at BREC's Baton Rouge Zoo for ZooLights beginning Nov. 29 and lasting through Dec. 30 nightly from 5:30-8 p.m. Join us for a mile-long trail through the Zoo and check out more than 50 illuminated display sculptures of animals and traditional holiday displays. For more information, visit brzoo.org.
Start your December off in the perfect, holiday way at Magnolia Mound's Creole Christmas and Holiday Fair! Come out for French Creole Christmas traditions and festivities on Dec. 1 from 1-6 p.m. including period demonstration, folk crafts, carriage rides and the annual bonfire welcoming Papa Noel. For more information visit brec.org/magnoliamound or email jsykes@brec.org.
Create your own masterpiece at BREC's Gingerbread House Decorating throughout the parish. Starting with four walls to the finishing touches, we'll walk you step by step to a special family creation loaded with gingerbread, icing and other treats. All children must be accompanied by an adult. Events will be held from 5:30-7:30 p.m. These free events are sponsored by the BREC Foundation and open to all ages and abilities. Locations include Cadillac Street Park on Dec. 2, Jackson Community Park on Dec. 3, T.D. Bickham Park on Dec. 4, Anna T. Jordan Community Park on Dec. 5, Plank Road Park on Dec. 6, Womack Park on Dec. 10, Antioch Blvd. Park on Dec. 11 and Ben Burge Park on Dec. 12. For more information, call 225-272-9200 or email recreationevents@brec.org.
This year, for the first time, BREC will host Flashlight Candy Cane Hunts at several locations throughout the parish.?Grouped by ages, we will be hunting candy canes throughout the recreation center and outside in the park. Make sure to bring your flashlight in case those candy canes are hiding!?Activities will also include indoor snowman building, musical iceberg, snowball races and an arts and craft to take home. There will also be a hot cocoa bar and your mix-in of choice to help make you feel all toasty inside!?All locations, dates and times are listed below. For more information, email kcoots@brec.org.
Adult Leisure:?For patrons 55+
Alsen Park
Jan. 8, 10 a.m.-noon
Adult Interactive:?Adults with developmental disabilities
North Sherwood Forest Community Park
Jan. 14, 10 a.m.-noon
General Recreation:?5:30-7:30 p.m.
Mills Avenue Park, Dec. 6
Kerr Warren Park, Dec. 13
Gus Young Park, Dec.?20
Baker Park, Dec. 30
Womack Park, Jan. 2
Jackson Community Park,?Jan. 3
Antioch Blvd. Park, Jan. 3
Highland Road Community Park, Jan 4, 10 a.m.- noon and 5:30-7:30 p.m.
Join BREC's Sunshine Family Holiday Celebration as we decorate cookies, make holiday crafts and watch a movie at Narin Drive Park on Dec. 14 from 9 a.m.-noon. This event is free and open to all ages and abilities. For more information, contact Molly Orr at molly.orr@brec.org.
Its time bring out your ugly Christmas sweaters and get ready for holiday fun! Families come enjoy an evening full of holiday crafts, games, cookie decorating, hot cocoa and a movie under the stars as we watch The Grinch on Dec. 18 at 6 p.m. at Forest Community Park. For more information, email recreationevents@brec.org.
Get ready for this month's Adaptive Sunshine Social – Ugly Sweater Party at Womack Park on Dec. 20 from 6-9 p.m. Through a partnership with Families Helping Families of Greater Baton Rouge, BREC is able to offer themed, monthly socials for adults with cognitive and developmental disabilities and their friends and family. There will be a disc jockey, snacks, door prizes, socialization and fun, so get ready to sleigh through the holidays with your best Christmas sweater! For more information, call 225-272-9200 or visit brec.org/adaptive.
Join BREC as we celebrate the holidays at Let It Sneaux on Dec. 21 from 4-8 p.m. at Perkins Road Community Park.?Activities will include inflatables, face painting, jugglers, stilt walkers, balloon artists, caricature artists, smores, snow inside the velodrome, a visit from Santa and Mrs. Claus and more. This event is free and open to all ages. For more information, email recreationevents@brec.org.
For the Young at Heart, BREC celebrates the holidays with a special Christmas Tea Dance for adults over 55. Wear your dancing shoes and join us for music, refreshments and fun at Womack Park on Dec. 21 from 1-3 p.m. for just $10 per person. For more information, email pturner@brec.org.
Welcome the holiday season with a unique nighttime family bike ride at BREC's annual Reindeer Ride on Friday Dec. 6 from 5:30-8 p.m. Our Outdoor Adventure team and participants will ride up the levee from Farr Park campground to downtown Baton Rouge for Baton Rouge's Downtown Christmas Lighting Celebration. Participants will leave the levee trail head and join in a colorful bike parade through the downtown area, partake in the holiday festivities, then return to Farr Park together. What better way to start the holiday season than with this event!
For more information on any of these events, please visit brec.org/holiday