News
Friday, May 11, 2018 - Contact: 225-273-6439
BREC Hosts Inclusive Colors Event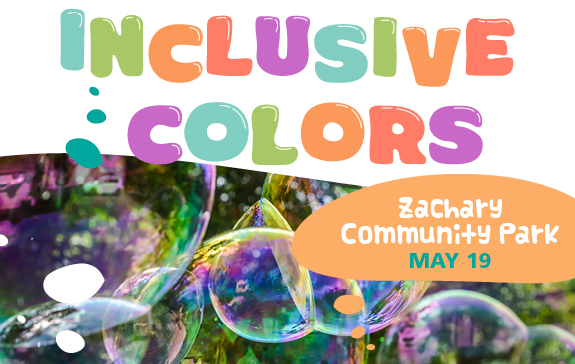 BREC and the Community Wide Inclusive Network Committee will host Inclusive Colors on Saturday, May 19 from 9:30 a.m.-12:30 p.m. at Zachary Community Park.
Inclusive Colors is a unique event for all ages and abilities. Children and adults of all abilities will run, walk, dance and play their way through this half mile-bubble run from 9:30-10:30 a.m. Registration begins at 8:30 a.m. Wheelchairs and strollers are welcome.
Once participants cross the finish line, there is still plenty of fun to be had as participants can create a messy masterpiece using a variety of mediums in their own style of painting with their hands, brushes, water shooters and more. Messy Masterpiece activities will immediately follow the bubble run from 10:30 a.m.-12:30 p.m. There will also be an Inclusive Network Expo with a variety of booths throughout the park.
For more information, call 225-654-4261 or visit brec.org/therapeutics.