News
Friday, December 21, 2018
BREC Commission Names New Superintendent of Parks and Recreation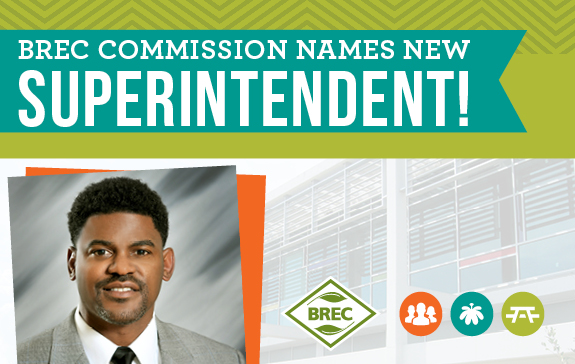 The BREC Commission today voted to select Corey Wilson to replace Superintendent Carolyn McKnight who announced in August that she is retiring and moving back to Dallas to be closer to her children and grandchildren.
Wilson, 44 will be the sixth Superintendent in BREC's 72-year history. Wilson earned a Juris Doctorate from Harvard University and holds a law license in both Louisiana and Texas. He graduated Magna Cum Laude from Morehouse College in Atlanta and is a New Orleans native.
He has served as the Chief of Business and Management services for BREC since 2012, acting as both in-house legal counsel and the Chief Executive over the agency's Finance, Human Resources, Information Technology and Communications divisions. Wilson is a certified Park and Recreation Professional and has served as an instructor for future agency leaders at the National Recreation and Park Association's (NRPA) Director's School. He was instrumental in the creation of a training and internal audit division for BREC and for creating the successful LEO Program which works to bridge the divide between youth and local law enforcement.
"We had four outstanding candidates from which to choose and in the end, Wilson's knowledge of the community, his instrumental role in major projects currently underway at BREC and his passion and knowledge of the people of Baton Rouge set him apart," said BREC Chairman Lloyd Benson. "With Wilson on board, there will be no delay in moving forward on critical projects such as the reimagination of the Zoo and Greenwood Community Park along with many other transformational projects currently in the planning phase," said Benson.
"This community is fortunate to have a parks and recreation agency that is well-regarded nationally and able to attract high-level candidates from across the country interested in becoming the next leader of BREC," said outgoing Superintendent Carolyn McKnight. "Corey Wilson is the right man for this job and this decision gives me assurance that BREC will be in good hands. He has the admiration and respect of the entire BREC team and is a visionary thought leader. I will begin working immediately to make a smooth transition," said McKnight.
Wilson is a resident of Baton Rouge along with his wife Kay who also serves the community through her role as a professor at the University of Louisiana Lafayette. They have a 9-year- old daughter, Naima.
"This is the pinnacle of my career and I am honored and humbled to be chosen for this position at this critical time in BREC's history," said Wilson. "I am well aware that BREC has received many accolades over its rich history and is regarded as one of the best parks and recreation systems in the nation. I will take seriously my responsibility to keep that momentum moving forward with the ultimate goal of serving each and every resident in East Baton Rouge Parish to the best of my ability," said Wilson.
The Commission today authorized BREC's outside legal counsel, Murphy Foster of Breazeale, Sachse and Wilson, L.L.P. to begin negotiating a contract with incoming Superintendent Wilson. The salary range for the position is $150,000 - $217,357.
Attached you will find the 30, 60 and 90-day plan Wilson gave the Commission after his interview. He intends to begin immediately implementing this plan as soon as the transition takes place.