Construction News
Monday, July 23, 2018
BREC and Mid City Studio Celebrate Spain Street Park Renovations
BREC to Host Ribbon Cutting at Spain Street Neighborhood Park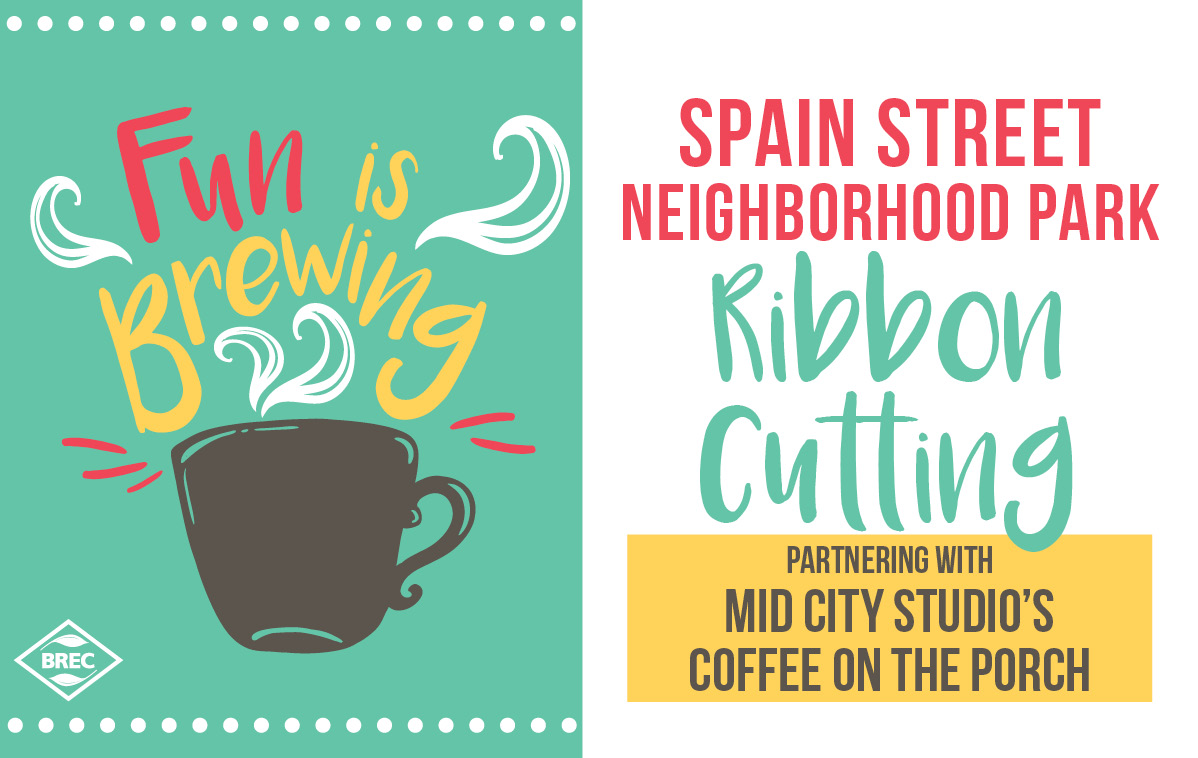 BREC recently completed park renovations of Spain Street Neighborhood Park located at 2102 Spain Street. A ribbon-cutting ceremony is being held on Saturday, July 28 in partnership with Mid City Studio's Coffee on the Porch. The event will begin at 9:00 a.m., with the ceremony following at 10 a.m. The public is invited for coffee and breakfast while enjoying the company of other Mid City patrons and the neighboring community.
BREC has completed the park improvements requested through nearby resident's input and ideas which were given at a public meeting in June of 2017. These improvements include a new playground with wood fiber safety surfacing replacing the old sand surface, a new concrete walk creating a walking loop around the play area connecting features such as a new centrally located picnic shelter and a refurbished basketball court. Additionally, picnic tables were also added for the community to enjoy family picnics and a game of chest or checkers in a shady spot. Vibrant, non-standard colors, new bench types and Public Art, were all included in the design concept to give Spain Street Park its own unique, identifying character – something BREC is incorporating in other neighborhood park improvement projects.
A neighborhood park is a smaller type of BREC park meant to serve the citizens living within walking distance of the park. These parks remain as the core facilities of the BREC park systems and serve as the recreational and social focus of neighborhoods throughout all East Baton Rouge Parish. With more than 100 neighborhood parks, the primary concentration is on informal activity, programmed activity, passive recreation and community cohesion.
Started in July of 2014, Mid City Studio's Coffee on the Porch began at Spain Street Neighborhood Park with the purpose of connecting the diverse places and people that are part of Mid City and finding common ground while also celebrating their differences. Now three years later, the event serves as a platform to support and connect local organizations and businesses while being a place to meet our neighbors, share stories and learn about one another.
To celebrate BREC's renovations and three years of Coffee on the Porch, BREC and Mid City Studios invite you to come and enjoy your morning cup of coffee with us on Saturday, July 28. Coffee and breakfast are provided by Pit-N-Peel, Cafeciteaux Coffee Roasters and Trader Joe's.
To learn more about Spain Street Park and other park improvements visit brec.org/ParkImprovements. For more information on this event, contact BREC's Special Events Manager Ashlyn Lambert at 225-272-9200 ext. 470 or Ashlyn.Lambert@brec.org