News
Friday, November 30, 2018 - Contact: 225-273-6439
BREC Superintendent Finalists Selected by Search Committee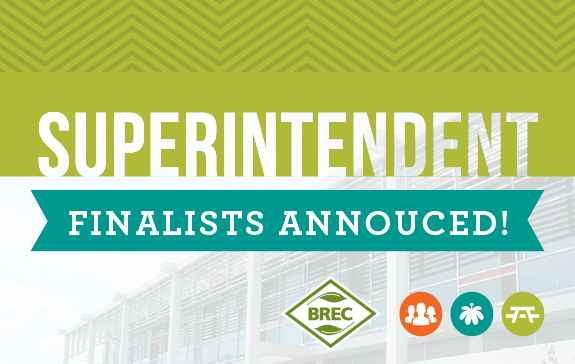 The BREC Superintendent Search Committee voted at a public meeting on Nov. 29 to advance four candidates as finalists for the search to replace retiring Superintendent Carolyn McKnight. The committee is comprised of the BREC Commission's Executive Committee: Chairman Lloyd Benson, II, Vice-Chairman Reverend Shelton Dixon and Treasurer Larry Selders, along with Commissioner Sandra Davis and former Commissioner Bettsie Miller.
Search firm Emergent Method received 27 total applications for the position, many of whom were actively recruited for their extensive experience with parks and recreation agencies that are known nationally for high-quality facilities, events and programs, as is BREC. The firm reported a high level of interest for the position, attributing the caliber of candidates to BREC's national reputation for excellence as well as its unique structure as an independent park district. These attributes, which ensure a stable budget and operating environment, have enabled the system to implement the successful Imagine Your Parks strategic plans responsible for widespread construction and improvements over the last 14 years. Additionally, BREC is a two-time National Recreation and Parks Association Gold Medal Award recipient, a Gold Medal Award finalist for the past three years and has been reaccredited an unprecedented five times as a parks and recreation system, all of which further contribute to the high regard in which prospective candidates hold BREC within the industry.
At the committee meeting, which followed the full BREC Commission meeting, members voted to narrow the candidate pool after hearing a presentation on the top nine applicants for the job. Finalist candidates include:
Chris Nunes, currently the Director of Parks & Recreation for The Woodlands Township, TX.
Carlos Sam, currently the Superintendent of Schools for the East Feliciana Schoolboard, La.
Nicholas Williams, currently the Director of Parks & Recreation for the City of Oakland, CA.
Corey Wilson, currently Chief of Management & Business Service for BREC, La.
"As a committee, we are excited about the caliber of candidates interested in leading BREC during this pivotal time in its history," said Search Committee Chair Larry Selders. "We have a significant number of major projects on the drawing board and are looking for someone who can continue the visionary leadership of Carolyn McKnight. They will have big shoes to fill and it is gratifying to know that the agency will be in good hands, no matter which of these proven leaders is ultimately chosen."
The Commissioners will immediately begin scheduling in-person interviews with each candidate for approval in December at its regularly scheduled meeting on the 19th, or if necessary, a special meeting tentatively scheduled for December 28.
The search for BREC's next superintendent follows Superintendent McKnight's retirement announcement in August. McKnight plans to remain with BREC until her contract expires toward the end of the year and has pledged to support any transition efforts with the incoming superintendent. As the mother of two sons and four grandchildren, with a fifth on the way, she and her husband John will move back to her home in Dallas in early 2019.