Park Planning
Tuesday, October 29, 2019
BREC to Celebrate the Opening of the Ward Creek Bridge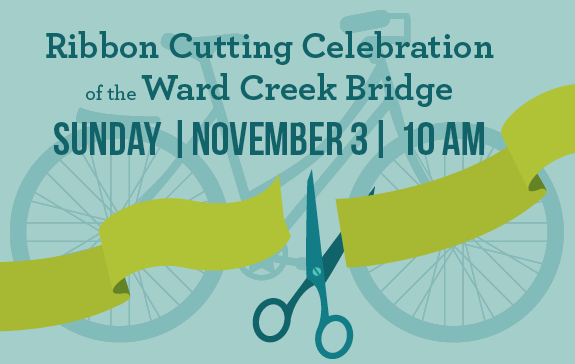 Join BREC on Sunday, Nov. 3, for a ribbon cutting ceremony and bike ride with Bike BR to celebrate the recently completed Ward Creek Bridge at Ochsner Medical Complex – The Grove, 10310 The Grove Blvd. in Baton Rouge. The ceremony will begin at 10 a.m. with a warm welcome from BREC's Superintendent, local dignitaries, BREC Commission and other special guests. A bike ride along the biking trail is scheduled to follow at 11 a.m.
BREC has completed a key part of its planned 13-mile Health Loop network of bike/pedestrian trails across Ward's Creek by partnering with the Ochsner Clinic Foundation to build a multi-modal bridge across Ward Creek. This new bridge provides a 10-foot-wide barrier-separated travel lane that safely separates bicyclists and pedestrians from motorists. The new bridge links two previously separated trail segments that are on opposite sides of Ward Creek, creating a continuous 2.6-mile segment of trail from Siegen Market Place to the Mall of Louisiana and to Bluebonnet Blvd. As part of the bridge project, a new fitness station/trailhead was also completed near the bridge.
The overall completed 13-mile Health Loop will snake through the parish's Health District around the Pennington Biomedical Research Center, Our Lady of the Lake Regional Medical Center, near the LSU Health System Surgical Center and Ochsner; and will continue with a 1.5-mile path along Ward Creek to Pecue Lane. From there, future phases will connect it to Woman's Hospital.
The Health Loop is a part of BREC's?Capital Area Pathways Project initiative, the goal of which was to identify safe routes and build a network of connecting trails and greenways throughout the parish.
Patrons are invited to a ribbon cutting and a group biking excursion to and from Oschner Medical Complex-The Grove. Bike BR in partnership with BREC will lead the group bike ride along the trail and head toward Siegen Marketplace.
For more information, contact BREC's Special Events Manager Jasmine Moore at 225-272-9200 ext. 1143 or Jasmine.Moore@brec.org