What is BREC on the Geaux?
BREC on the Geaux is a traveling recreation program designed to combat obesity by providing recreational activities in East Baton Rouge Parish's socioeconomically deprived communities. The program is operated from colorful, 14 foot box trucks loaded with a variety of physically active equipment and games for all ages.
BREC on the Geaux is available during school holidays, school recess and afterschool activities, as well as, health related community events with priority given to events held in underserved communities. The Mobile Units may also be reserved for company events, birthday parties and family reunions held at BREC facilities or approved public locations.
Purpose:To provide fun, positive and structured physical recreation programming for children and adults who live in "play deserts".
Goals
To increase the amount of time spent in physical activities among children living in economically challenged communities.
To provide access to safe physical recreation activity for children in locations without playgrounds.
To promote the future development and expansion of the Mobile Recreation Program.
Activities Include:
Cardio Hula Hoop
Gaga Pits
Jump Ropes
Trampolines
Slacklines
Scooter Carts
Jumbo Balls/Cage Balls/Hop Balls
Broad Jump
Medicine/Fitness Balls
Push Up Mats
Agility Ladders/Poles/Hurdles
Funky Moves
Giant Tunnels/Chambers
SNAG Golf
Stacking Buckets
Basketball/Rimball Goals
Tennis/Badminton/Volleyball
Soccer
And so much more!
Schedule
School Holiday Route
During the fall, winter, spring and summer breaks, BREC on the Geaux will make its way to over 30 local communities and parks to set up play, the BREC on the Geaux way! Be sure to check back here for upcoming holiday route schedules
Mobile Recess Program
During the school year, BREC on the Geaux visits various schools around the Parish during their recess hours to give students the opportunity to experience an active and enhanced mobile recess program. BREC on the Geaux works with grades Pre K through 5th each week. The curriculum is targeted to use fun and creative ways to encourage locomotive skills, peer tutoring and teambuilding activities with guided instruction.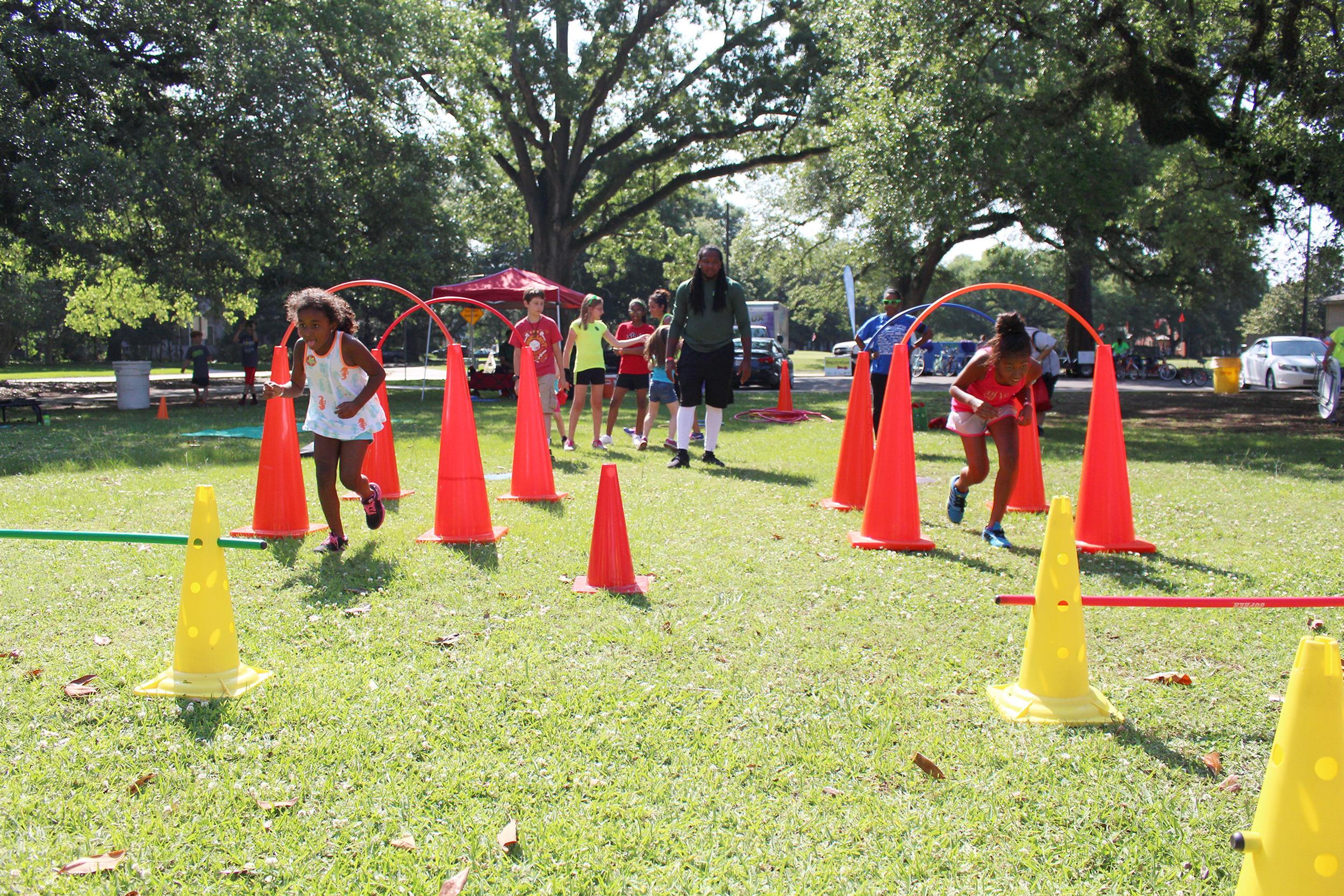 After School Route
BREC on the Geaux visits various parks and EBR housing complexes across the Parish from 4-7 p.m., Monday-Thursday, providing active and fun activities to children that may not be a part of a structured after school program. The stops are chosen from the locations that are already on the "Out of School" routes for fall, spring and summer holidays.
Event Rentals and Reservations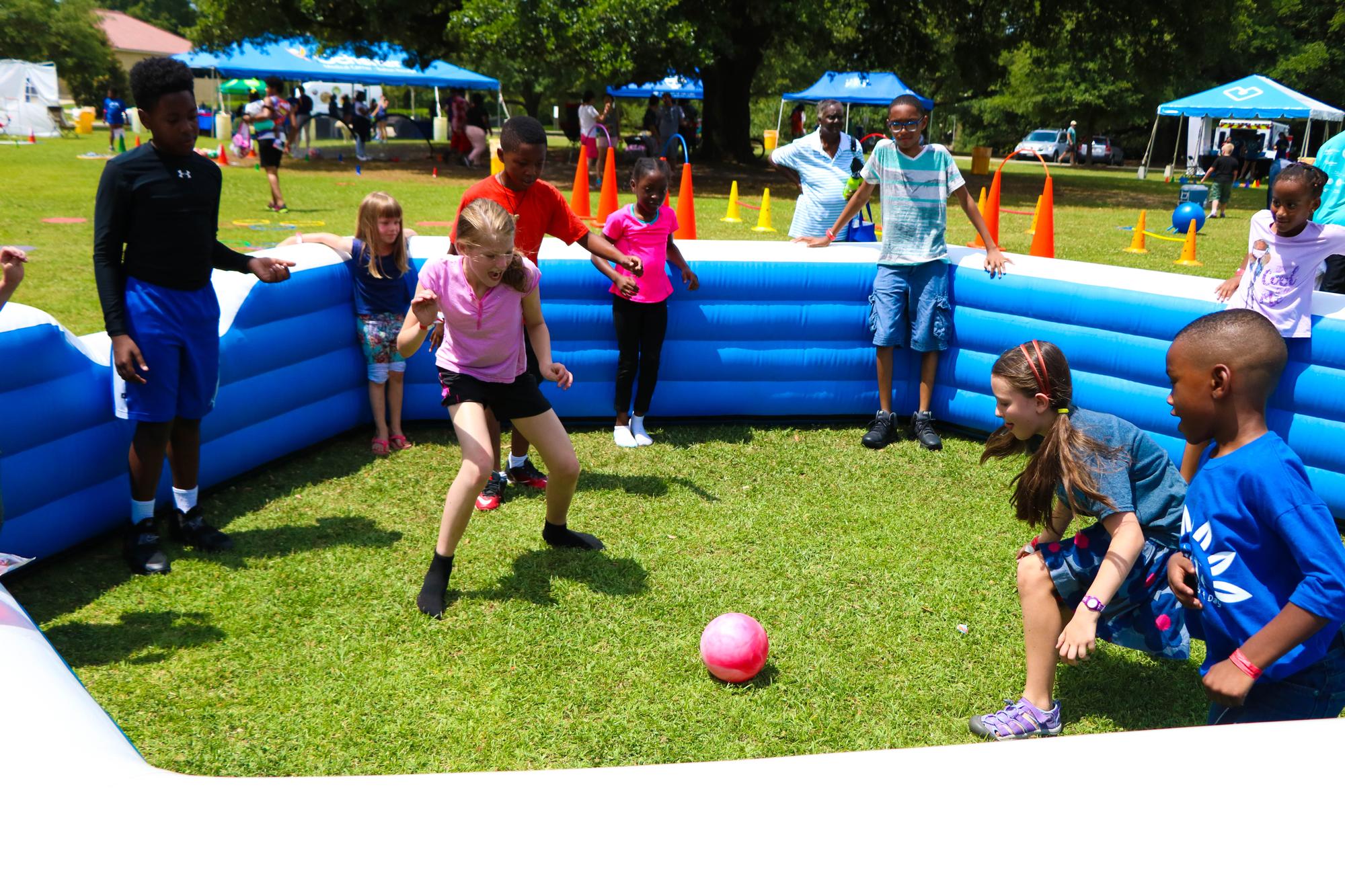 Reserve BREC on the Geaux for your neighborhood/school/church events, large festivals, company picnics, birthday parties or family gatherings. Private family events must be held at a BREC Park (facility/pavilion) to qualify.
Rental Fees
100 Participants
$100 per hour (includes 2 staff)
More than 100 Participants
$200 per hour (includes 3 or more staff & a larger selection of event equipment
Refundable Damage Deposit
$250
Out of Parish Fee
Additional 20% per hour
If you are interested in reserving BREC on the Geaux, download and review the Reservation Rental Agreement below.
For more information about BREC on the Geaux, contact our program coordinator:
Antoinetta Payne
Antoinetta.payne@brec.org


This program was made possible by the funding and support from the Blue Cross and Blue Shield of Louisiana Foundation's Challenge for a Healthier Louisiana grant, Pennington Biomedical Research Center and the BREC Foundation.