Conservation Green Force
Volunteer Program
BREC's Conservation Green Force was created to provide an outlet for volunteers dedicated to creating healthier and more native natural areas within East Baton Rouge Parish. As a member of BREC's Green Force you will be trained to assist with conservation management activities such as invasive species removal, trail building and maintenance, natural area surveys and interpretive program aide. It is our hope that by creating an educated, empowered group of individuals we will be able to better the community and provide better resources for hiking, bird watching, wildlife viewing while protecting unique and historically representative habitats within the parish. However, we can't do this without your help. The FORCE is calling….answer it!
Join the Green Force
Interested in joining the Green Force? Check back for a training date and registration!
What it takes to be on the Green Force:
A willingness to learn and get dirty are our main requirements. Here are a few more.
A minimum of 20 hours of service a year towards BREC Conservation Projects.
Attend one of our biannual training days in entirety each year.
16 years or older (exceptions for youth with dedicated parent willing to co-volunteer with child)
Conducting projects under BREC Conservation guidelines.
Complete Volunteer Application and pass background check.
Perks of being on the Green Force:
When the force is with you, good things happen. This is why we are honored to have you as a Green Force member and want to thank you for all your hard work with these perks.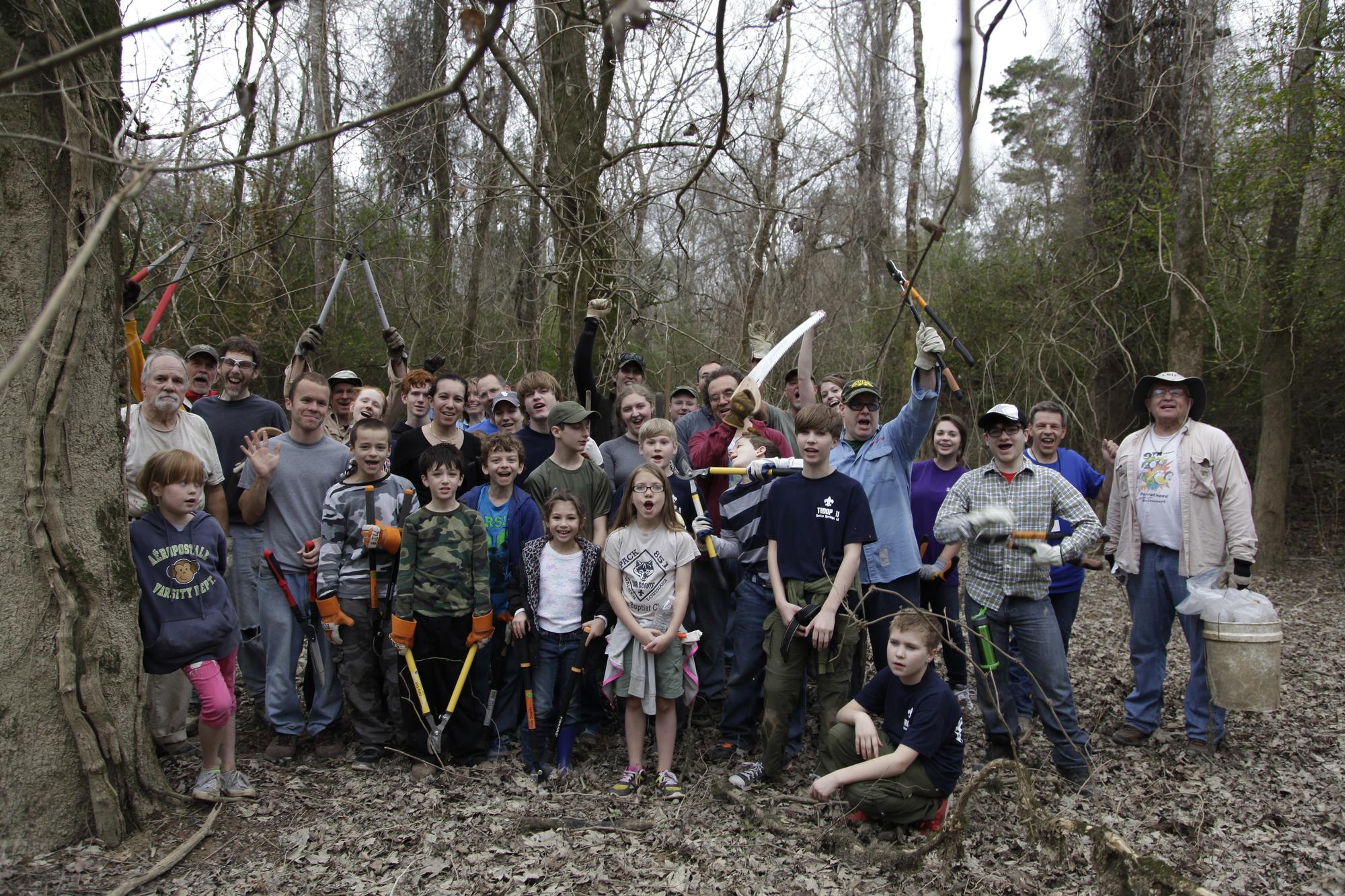 Bronze Frog: 20 hours of service annually
BREC Conservation T-shirt
BREC Conservation Waterbottle
Recognition Certificate
Volunteer only program at end of the year
Silver-spotted Skipper: 30 hours of service annually
All Bronze Frog benefits
$500 Tax Break
Golden Orb Weaver: 60 hours of service annually
All Silver-spotted Skipper benefits
Collared, embroidered BREC Conservation shirt
Ivory-billed Woodpecker: 90 hours of service or more annually
All Golden Orb Weaver benefits
Walking Stick recognizing service in first year and every year of Ivor-Billed service you receive a recognition plate to add to your walking stick.
Embroidered BREC Conservation Fleece Jacket
Green Force Volunteer Categories:
The following categories are general guidelines to help determine where you might be able to serve best while on the force. At this time we are not requiring that you apply for one position in particular as we hope that you will find interest in a variety of projects. Each activity or position will have parameters that must be followed for your volunteer hours to count towards the projects. All volunteer hours must be approved in advance to ensure we have focus in the right areas and full disclosure of all activities that are taking place in BREC Conservation Areas at any given time. These will all be explained in further detail during training.
Programs and Public Outreach:
Although at this time volunteer will not be leading interpretive programs by themselves we often need help facilitating programs, outreach events and service learning projects with local schools.
Program Aid
Program Photographer
Roving Interpreter
Service Learning Program Aid
Special Projects and Events:
A few times a year BREC Conservation hosts large special events and we need help with all aspects of logistics. Events include the Bioblitz, Extreme Green or Summer Camp.
General Event Aid
Bioblitz Aid
Summer Camp Aid/Instructor
Invasive Species Removal:
This segment of the Green Force will help us fight the battle against alien invaders in our conservation areas. You will be trained in species identification and how to use our various tools of the trade. Certain individuals who pass a species id check and have previous experience working invasive species removals can serve as Team Leaders which coordinate projects that do not require BREC staff supervision. Volunteers will also help to monitor effectiveness of removal techniques and projects. Work is typically seasonal.
Team Leader
Invasive Team Member
Trail Construction and Maintenance:
We need the help of the Green Force to keep trails in working condition throughout the year when we often have too much on our plate to conduct trail surveys and work days. Individuals or groups with a strong commitment level and willingness can adopt a park and the trail within to ensure they are maintained, reporting any issues to BREC staff. General trail crew will show interest and BREC will send out to trail in need of service or assessment.
General Trail Crew
Adopt A Trail Group/Individual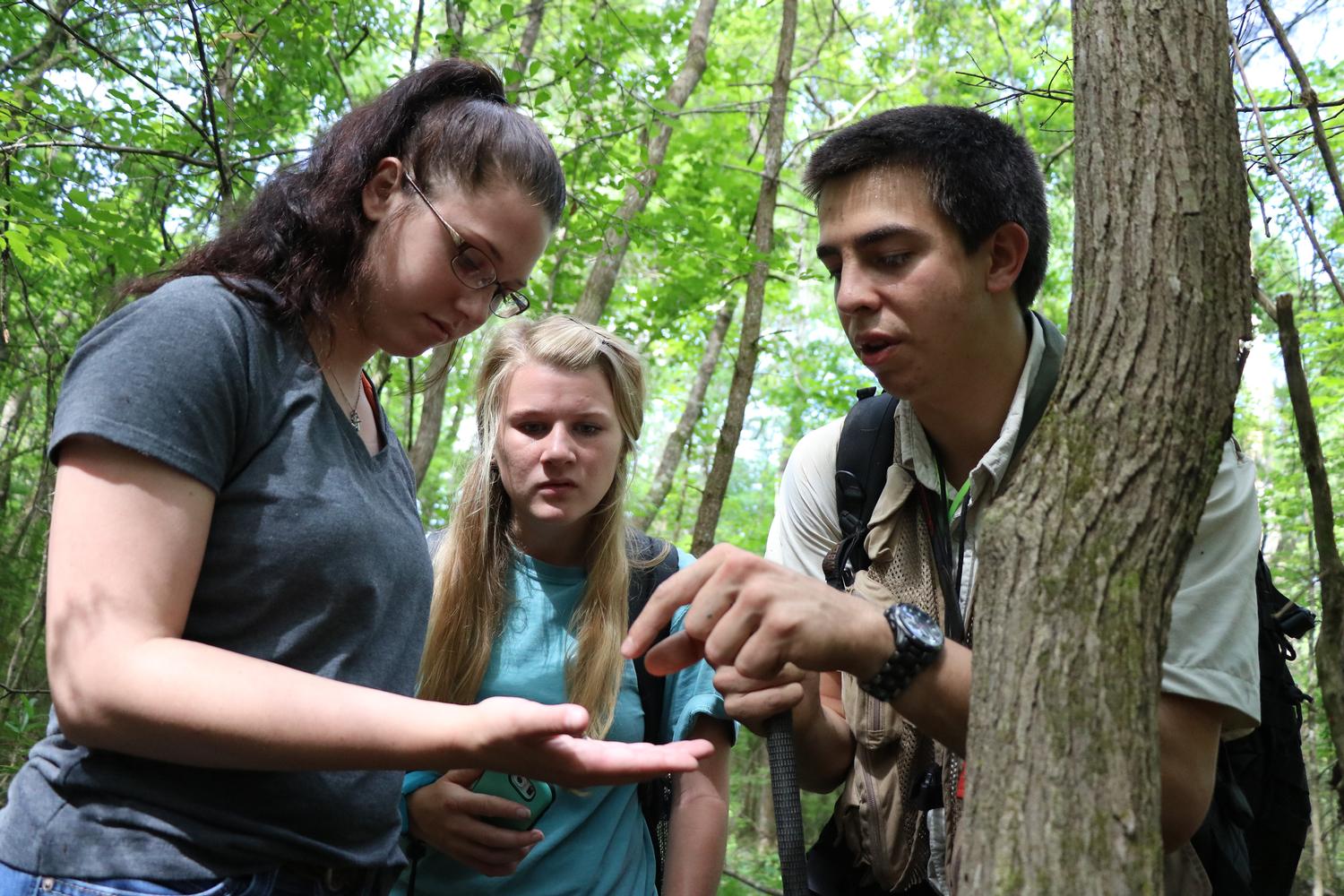 Citizen Science:
Help us collect baseline data using citizen science tools such as iNaturalist. We will train you on our protocols but volunteers must have education or experience with species of choice or be willing to research a topic in order to conduct surveys.
General Park Surveyor
Species Specific Wildlife Survey
REAP Assessor
Adopt A Pond:
As we dive further into developing management schedules for our ponds we will need individuals or groups interested in adopting a particular BREC fishing pond. This would require the responsibility of keeping the pond and edge clear of trash and debris, checking, and removing fishing line from monofilament recycling stations, helping to keep fisherman access locations clear of vegetation and assisting with invasive species removal as necessary and planned.
Green Team:
Be a sustainability expert and help others within the community learn how to be green as well! These force member will help us conduct recycling bin surveys to see if people are using ones in place effectively and help us determine where to put bins that are need. With all help at outreach events to promote use of recycling bins at event.
Photographer:
If you are more interested in taking pictures of park trails, wildlife and plants within our parks this would be the position for you. This person will visit parks at their leisure and take high resolution images that they would then allow us to use in signage and promotional material.
GIS Surveyor:
If you have some knowledge of GIS systems and how to use a GPS device we will need people who are willing to go out into parks and collect data for new GIS system. This person could potentially even help to download data and create maps if that is in their skill set.