BREC's Capital Area Pathways Project (CAPP) is an initiative to identify routes and build a network of connecting trails and greenways throughout East Baton Rouge Parish.
The BREC Commission approved the Proposed Parish Trails Master Plan on October 22, 2015. The routes indicated were derived through public input at workshops held by BREC to identify the most desirable trail corridors that provide access to BREC parks and other points of interest in the community. BREC, in the interest of public safety, has located pathways off of roadways within public rights of way such as utility, stream, and drainage corridors.
The Master Plan illustrates proposed CAPP trails, identifies existing segments as well as those being implemented in cooperation with other local organizations (including the proposed EBRP Loop, and Levee Trail, and on-street pathways), and locates BREC parks.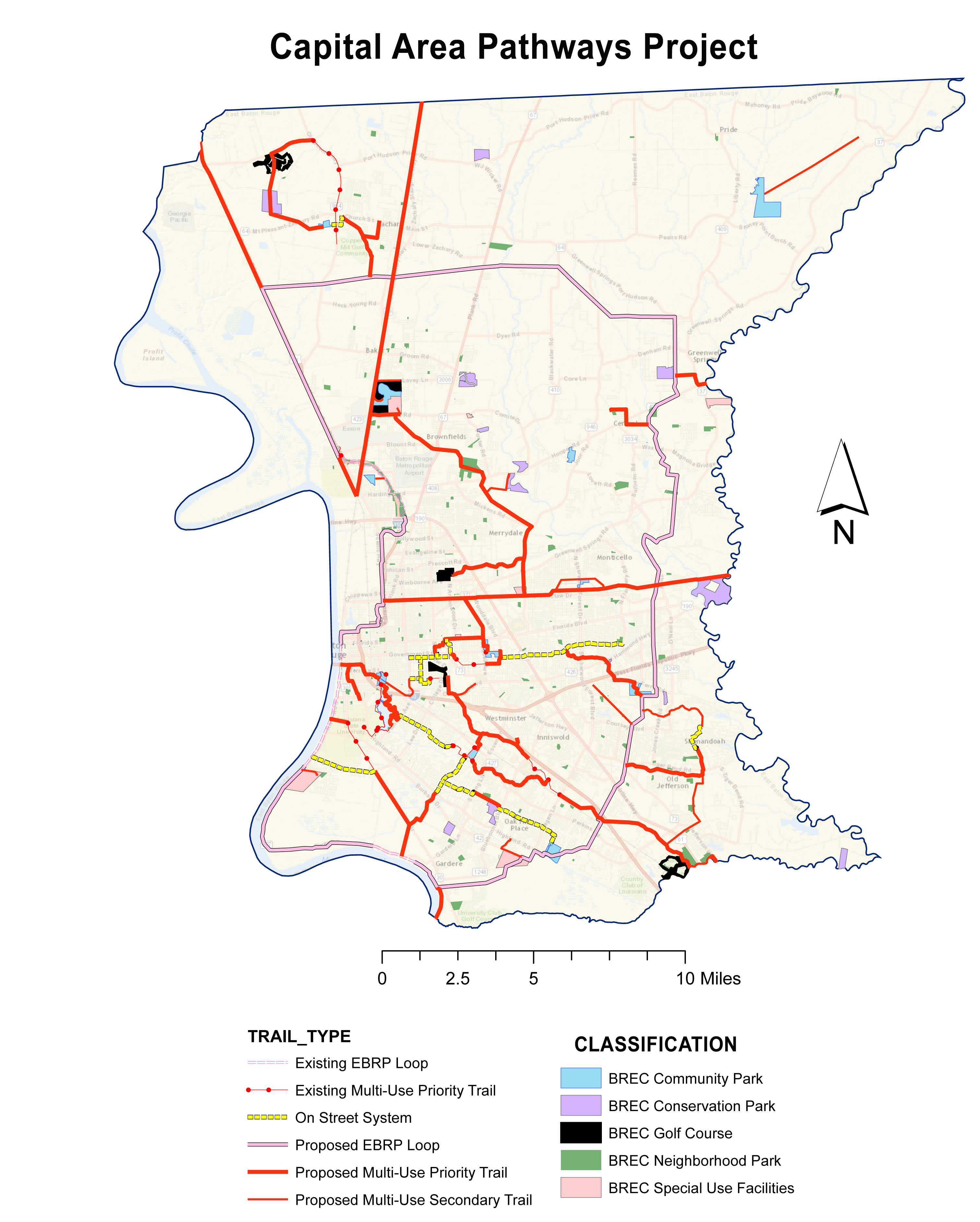 Click to view Proposed Parish Trails Master Plan and send any comments regarding the proposed trails to planning@brec.org


Project Updates:
2004

– The inception of the CAPP program can be linked to the "Imagine Your Parks" Strategic Planning Process. Public interest focused on trails and use for exercise or commuting to parks.

2006

– BREC Trail Route Planning Process to gather public input for connectivity trail routes

2007

– Preliminary brainstorming map developed to illustrate public pathway route interest. Developer Richard Carmouche expresses interest in joint venture to develop trails in Wards Creek corridor that becomes catalyst for first CAPP trail project. Ed McBrayer from Atlanta Path Foundation speaks at one in a series of BREC public trail planning meetings.

2008

– BREC Commission unanimously approves Wards-Dawson Creek as first linear park corridor. Initial 4.4 mile corridor stretches from Siegen to Bluebonnet along Dawson and Wards Creeks. Medical community interest in the project leads to naming the project the "Medical Mile". Staff begins feasibility study, researching Right of Way and servitude acquisitions.

2009

– Gil Penalosa of Walk and Bike for Life speaks at BREC public trails meeting

2010

– Design contract signed for Wards Creek "Medical Mile" segment from Mall of LA Blvd. to Siegen Overpass

2011

– Design contract signed for Wards Creek "Medical Mile" segment from Bluebonnet Blvd. to Mall of LA Blvd.

2012

– "Medical Loop" trail route mapping developed indicating a continuation of the pathway from the initial Wards Creek "Medical Mile" westward to connect to OLOL Hospital and its surrounding medical facilities, to Perkins Road Park, Pennington Biomedical Research Center, eastward along Dawson Creek to link to the Grove across Wards Creek to Morning Glen. The trail system began to be viewed as region-wide with connections to other parishes and cities via the levee trail and future connection to other regional trail systems. CAPP Groundbreaking Ceremony and construction begins on initial phase of Wards Creek "Medial Mile" trail segments from Bluebonnet Blvd. to St. George School. Blue Cross and Blue Shield Foundation donate $1 million to the CAPP Trail Project and for purchase of a mobile recreation unit.

2013

– Construction complete on initial phase of Wards Creek "Medical Mile" trail segments

2014

– Wards Creek Bridge goes into redesign in the interest of reducing construction costs. Bridge implementation stalls due to high implementation cost, project enters litigation. Siegen Extension project to Tuscany Villas enters design phase.

2015

– CAPP Proposed Parish Trails Master Plan approved by the BREC Commission on October 22, 2015. Full time Trail Planner hired to implement Master Plan. Perkins Road Park and Pennington Trail enter construction phase. CAPP Wards Creek "Medical Loop" becomes CAPP Wards Creek "Health Loop" to coincide with the name change of the new Baton Rouge "Health District" whose focus is on promoting healthy living.

2016

– Perkins Road Park/Pennington Trail construction completed and opened to the public. Design contracts signed for Greenwood Park and Bluebonnet Extension Projects. Siegen Extension project to Tuscany Villas enters construction phase. Grant funding received from LA Recreational Trail Program toward implementation of Wards Creek "Health Loop" Pecue Extension Project which will extend the trail to Pecue Lane and provide recreational trail benefits to residents in the southeast portion of the parish. Staff working on solutions to provide a bridged crossing of Wards Creek.
Upcoming Project Plans: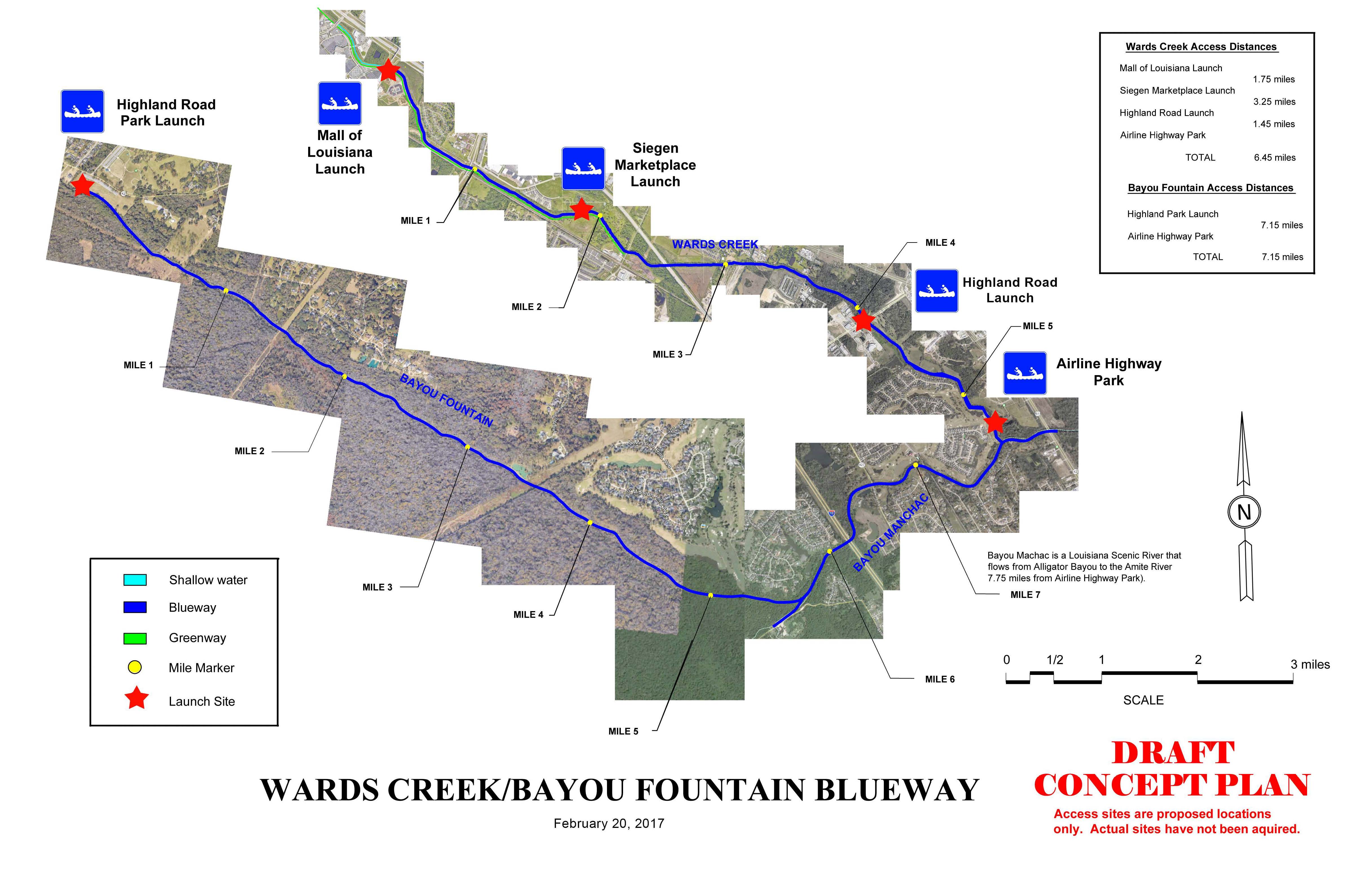 Wards Creek Bridge – connects the initial segments that terminate at Wards Creek and provides a public crossing to destinations geographically separated by the waterway. Grant application submitted 2016 to request funding assistance.
Parish Loop – Grant Application submitted for Monte Sano Bayou to Downtown Greenway Segment – potential north-south connector that provides the majority of the link from Southern University to Downtown Baton Rouge, City-Brooks Park, and Louisiana State University.
Blueway project development – Provides public access to local waterways through the construction of canoe-kayak launches designed to accommodate non-motorized paddle craft. Initial Canoe/Kayak Launch selected for implementation at Highland Road Park since it is located on BREC Property and no legal use agreements are required. To Learn more about the Blueways project, visit the BREC Blueway Trails and Launches page.
Health Loop Trail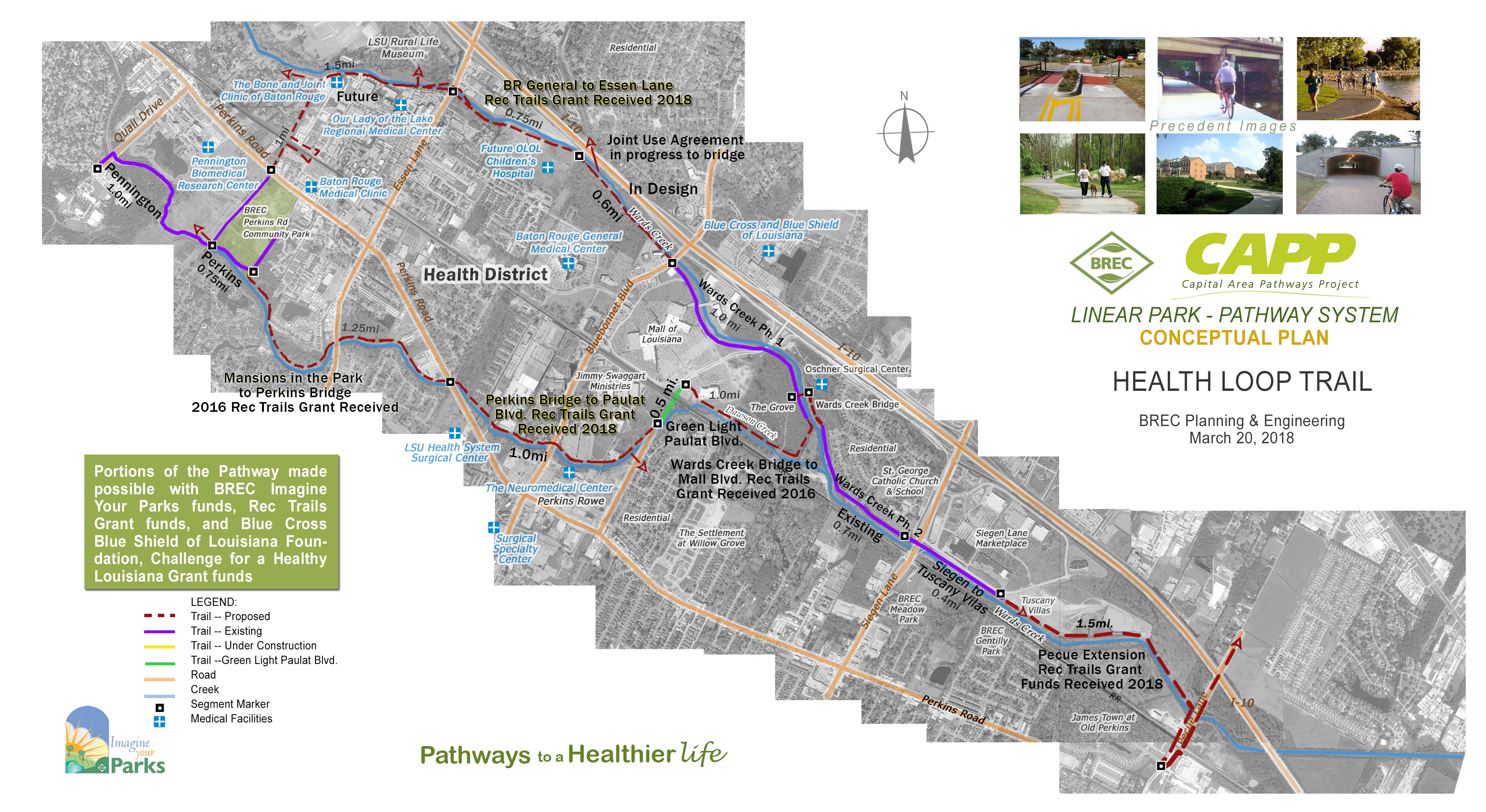 Click here to view the Health Loop Map
The first CAPP multi-use connecting trail project is the Health Loop Trail, the 12 ft. wide, barrier free concrete pathway is designed for pedestrians and cyclists. It is primarily sited along the banks of Wards and Dawson Creeks. The initial segments were located along Wards Creek from Siegen Lane to Bluebonnet Boulevard. Unanimously approved by the BREC Commission in January 2008, this trail corridor was selected for several reasons: high visibility, enthusiastic land owner support, potential to link several destinations/points of interest, ease of construction access and completion, and potential for future growth.
Completed Segments:
Phase one of the trail from the Mall of Louisiana to The Grove and from Morning Glen to St. George School was completed in 2013. With completion of the Wards Creek Bridge, it will provide a north south connector across the creek from the Mall of Louisiana at Bluebonnet Boulevard to Siegen Lane.
Subsequent segments, the Perkins/Pennington trail were completed and opened to the public in September 2016. This pathway connects residents in the area surrounding Perkins Road Park to Quail Drive via on-street routes through Pollard Estates, and the Rouzan development, then linking to the proposed Hyacinth Bike Path, and the University Lake's shared use paths and sharrows, to connect to the LSU campus
Siegen Extension – from Siegen Overpass to Tuscany Villas. Notice to proceed effective September 26, 2016. Project completion is anticipated in late February 2017.
In Design Phase:
Bluebonnet Extension – from Bluebonnet Blvd. to tie in at Baton Rouge General Medical Center. Estimate construction will commence mid-2017 and will be completed late 2017/early 2018.
Related Links
See all BREC tracks, trails, and pathways
Benefits of Trails and Greenways
www.pathfoundation.org
Conceptual Plan March 2010