North Sherwood Forest Community Park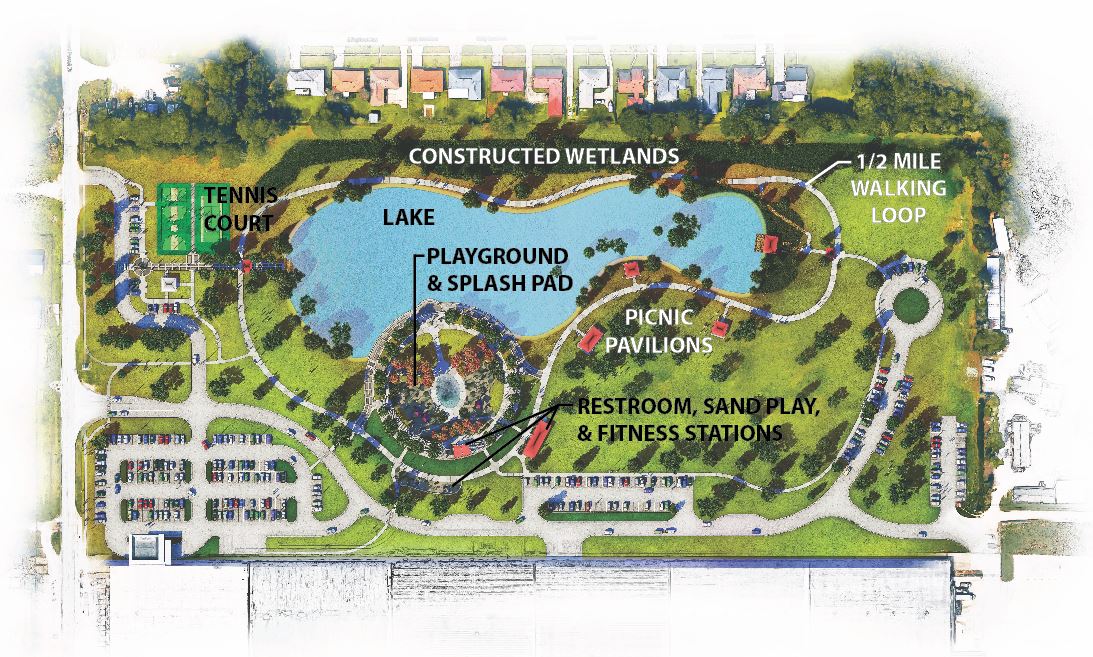 (Click to enlarge)
Project Overview
Many great projects were completed during the 2004-2014 Imagine Your Parks Program including a renovated Family Recreation Center with an indoor track, playground, theater, kitchen, fitness center, aerobics room and an interactive "virtual" park. Outdoor improvements include a new asphalt driveway, parking, and site lighting. The removal of the former BREC Administration Building made way for a new basketball court, pavilion, plaza and additional parking.
N. Sherwood Forest Community Park is now undergoing major site improvements to complete the transformation of this active park. The park's military history will be celebrated throughout the design of the park elements. This park was once named the Federal Sharp Station Depot and was used during World War II. Scattered around the site were several building and warehouses such as an ammunition warehouse, fire house, water towers, carpentry shop, offices and housing barrack.
The existing pond is being enlarged and reshaped to create a dynamic fish habitat. A wetland system is being constructed to filter the majority of stormwater that flows through the site. Native wetland plants will aide in water filtration as well as create habitat for butterflies and other important species. Along the wetland area will be a boardwalk, pavilion and fish cleaning station. The pond will be encircled by a half-mile lighted walking loop.
A promenade will bring you to main activity area overlooking the pond. The new community playground and splash pad are centered a grand America flag. The seals of the five branches of the United States Armed Forces will be inlaid in the splash pad surface.
Radiating out from the center of the splash pad will be seating shaded by a custom trellis system that will train sycamore trees into a unique shade structure. Kids and adults can enjoy an enclosed sand play area. Families and groups can enjoy four pavilions located around the lake. The largest of which will be available for party rentals. The addition of a Welcome/Restroom building, outdoor fitness equipment, and nearly 200 newly planted trees round out this fabulous new destination.
New Features in Current Project Improvements:
new

play area

new

splash pad

new

outdoor fitness equipment

new

tennis court

new

promenade/pond overlook

renovated

welcome/restroom building

new

pavilions (4)

new

signage

expanded

pond

Enhanced

fish habitat & fish cleaning station
Project Updates:
2004

- Public Meetings and Master Planning

2005

- Family Recreation Center Renovations completed

November 2011

- Recreation Center Re-Roofing

2012

- Site Infrastructure Construction completed - Asphalt drives & Parking Lots, Lighting

Spring 2012

- Former BREC Administration Building Demolition

summer 2013 2012

- Basketball Court, Pavilion, and Parking completed

2014

- Tree Planting

January 2016

- Montoya Design Group hired to complete Master Plan through Construction Administration

May 26, 2016

- Bid approved by BREC commission

July 25, 2016

- Notice to Proceed issued J. Reed Constructor, Inc.

December 2016

- Major dirt moving underway. Splash pad area is being formed up, flagpole and water feature bases are in.

March 2017

- Splash pad, tennis court, flagpole, splash pad slab & feature bases, and pond complete. Site drainage, eletrical runs almost complete. Working on pavilions, fishing pier, forming & pouring walks

August 2017

- Significant rain delays experienced during this project. Several sections of concrete walks poured around the activity hub. Promenade pavers are in. Trellis is up and being painted.

September 2017

- Play equipment installed, working on restroom building.
Estimated Budget for Current Improvements: $3.8 million
Estimated Completion for Current Improvements: May 2017
Related Links and Project Documents 
BREC to Break Ground on New Amenities at North Sherwood Forest Community Park