News
Thursday, April 7, 2016 - Contact: 225-273-6439
Spring has Sprung at BREC with New Amenities Popping Up All Over the Parish
Grand Openings, Ribbon Cuttings and Ground Breakings to be Held at Several BREC Parks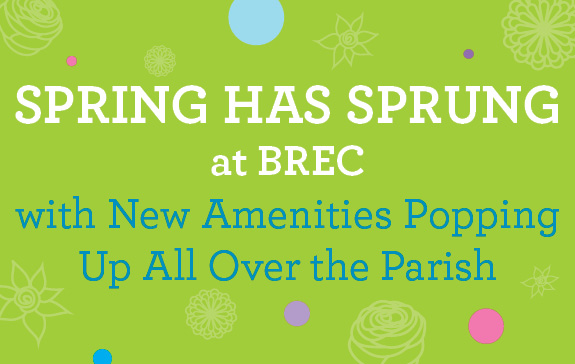 BREC travels the parish this April celebrating new amenities at parks and special facilities, with the first event to be held at BREC's Magnolia Mound Plantation located at 2161 Nicholson Drive. The former cotton, indigo and sugarcane plantation is set to unveil the long awaited Turner Family Visitor Center. On Sunday, April 10 a private dedication honoring the Turner family will be held beginning at 2 p.m. More than half of the $2.1 million public-private project was funded by benefactor Sue Turner and her family. Mrs. Turner has been a member of the Friends of Magnolia Mound philanthropic organization since the site was saved from demolition in 1966.
The new Turner Family Visitor Center features a contemporary design. Its design reveals a distinct line between the modern facility and exhibit. Depending on where guests stand on the grounds, the visitor's center is mostly hidden from view. Visitors will see the new facility upon arrival, but as they walk the grounds only the roof can be seen. The roof has a green roof system that features natural vegetation. The 4,100 square foot visitor center includes a gift shop, restrooms, a large meeting room or event room that could be used for educational exhibits and a 60-seat auditorium.
On Saturday, April 16 BREC will host a grand opening at the newest addition to BREC Disc Golf, the Louisiana Health Connections DiscGolfPark at Scotlandville Park. The park is located at I-110 Scotlandville Parkway and the event will be held at the beginning of the course at the Monte Sano Avenue entrance. The course was built by volunteers including devoted disc golfers from KINGFISH and BRDGA. This is only the third DiscGolfPark installed in the country and the first in Louisiana. It features exquisitely beautiful natural topography in the form of rolling elevation changes uncommon to Louisiana, Bayou Monte Sano running the length of the park and weaves through stunning oak trees. The grand opening featuring disc golf demonstrations, disc golf experts and giveaways will be held from 10 a.m. until noon and the public is invited to attend.
BREC's Riverbend Park Trail located at 5800 River Bend Lakes Drive is now complete and a ribbon cutting will be held on Sunday, April 17 at 4 p.m. The trail connects Riverbend Park to BREC's Farr Park Equestrian Center and continues to the levee. The ribbon cutting will kick off a fundraising campaign by area residents who wish to partner with BREC to renovate Riverbend Park. Area residents are invited to attend an open house following the ribbon cutting and share their vision of what amenities they would like to see at the park. The public is invited to attend and activities include a food truck, recreational games, tennis activities, giveaways and more. To donate to the Riverbend Park fund visit BRECFoundation.org.
BREC heads north to Zachary on Friday, April 22 as it hosts a grand opening celebration at Zachary Community Park located at 20055 Old Scenic Hwy. New amenities at the park include a playground, splash pad and fitness equipment. The centerpiece of the playground is a "Mega Tower" with three stories of fun and adventure and the tallest slide in the BREC system. Surrounding the playground are a variety of amenities including a splash pad, three pavilions, plenty of seating, a merry-go-round and an entire section of swings including regular swings, tot swings and inclusive swings. You will also find new fitness equipment and stretching stations adjacent to the playground and lake. The public is invited to attend the grand opening celebration that begins at 6 p.m. Activities include a family walk, recreation games, playground and splash pad fun, meet and greet with a mermaid, food trucks, arts and crafts, and more.
The final celebration of the month will be at BREC's Liberty Lagoon located at 111 Lobdell Ave. On Saturday, April 23 at 1 p.m. BREC will break ground on exciting new features at the highly popular waterpark. A phase two project opening in 2017 will include two new thrill slides and a two person flow rider surfing machine. Additional picnic tables with umbrellas, deck space, concessions, restrooms, rental lockers and a second admission entrance gate are also included in this phase. The project will increase the maximum capacity of the park from 600 to 900 visitors. Liberty Lagoon opens to the public on Saturday, April 30.
For more information on these events, contact BREC's Volunteer and Special Events Manager Monica Dugas at 225-272-9200, ext. 446 or mdugas@brec.org.