Construction News
Monday, April 24, 2017
New Amenities Make a Splash at BREC's Liberty Lagoon
BREC Holds Invitation-Only Ribbon Cutting to Celebrate New Amenities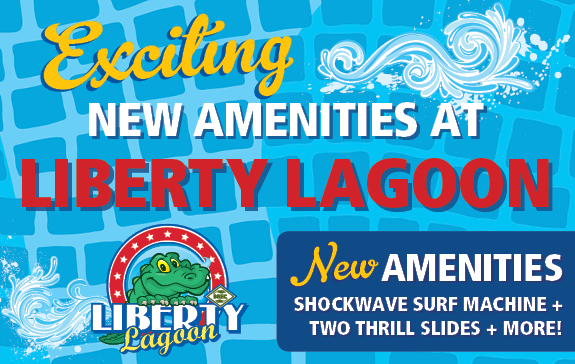 BREC recently completed construction of new amenities and an expansion at Liberty Lagoon Waterpark located at 111 Lobdell Avenue. In celebration of the new amenities, BREC held an invitation-only ribbon cutting that took place on the morning of Saturday, April 22.
Prior to the renovations, Liberty Lagoon featured a variety of water recreational activities such as plunge thrill slides, the Gator bowl plunge, a lap pool, lazy river, vortex pool and a slash pad water playground for children. The park's newest amenities include two thrill slides, increased deck space, additional pavilions, shaded areas with umbrellas, concessions stand, restrooms and rental lockers, as well as a second entrance to help patrons enter the park faster. The newly expanded park has increased its capacity from 600 to 900 patrons.
"The most exciting and highly anticipated addition to the park is the FlowRider ultimate surfing machine, named 'The Shockwave.' The Shockwave surfing simulator is a double FlowRider and can accommodate two riders. Its wow factor keeps riders coming back for more and more and I am proud to say it is the very first of its kind in the state," said BREC Superintendent Carolyn McKnight.
Liberty Lagoon opens to the public on Saturday, April 29. The park will be open Saturdays and Sundays April 29-May 24 and open daily beginning May 25. In addition to its daily operations, the park offers a variety of classes and programming for all ages. In the Baby Bubblers class parents and children ages 6 months to 2 years have a chance to learn together and increase the child's comfort in the water. The Water Exploration Class for ages 2-4 teaches the beginning stages of swimming and swim lessons are held for both children and adults. Fitness classes are also held at the park including Aqua Zumba, Water Aerobics and Stand Up Paddle Board Yoga. Patrons can also learn to paddle a sea kayak at its Paddle Up 1 class and take surfing lessons on the new Shockwave surfing machine.
Liberty Lagoon is home to several summer events. On June 3, the annual RocketKidz Rookies Triathlon will take place from 7-10 a.m. Then on July 15 "Surf's Up 2 – WaveMania" will play on the big screen at the Movie at the Lagoon event. The park closes out the summer with the End of Summer Puppy Pool Pawty with a dog-friendly pool event. For more information on Liberty Lagoon amenities, rentals, classes and events visit www.libertylagoon.com or call 225-923-3202.