Capital One Tennis Center
Capital One Tennis Center at City-Brooks
Youth Programs
*****UPDATED*****
PLEASE CLICK HERE TO READ THE UPDATED LETTER ISSUED JUNE 7, 2020,
REGARDING BREC TENNIS FACILITIES REOPENING - PHASE 2.
A 20% surcharge will be applied on out-of-parish registrations for any BREC program that has an activity number.
Open House Series for Juniors (Ages 6-16) Saturday mornings in August from 8:30-9:30 a.m. for ages 6-10 and 9:30-10:30 a.m. for ages 11-16. Equipment and racquets provided. Bring a water bottle and dress to sweat. Prior registration not required.
290021-33 Home-School Tennis Program (Ages 5-17) A six-week program designed especially for home-schooled children. Program includes drills, games, and tennis knowledge. Wednesday, Aug. 26-Sept. 30, from 1-2:30 p.m. Registration Deadline: Sunday, Aug. 23. Instructor: Ojo Thompson.
Adult Programs
290021-00-05 Genexis Program for Adult Beginner Players A program for beginners who want to improve their tennis skills in preparation to play league tennis. Mondays, Aug. 3-24, from 7:30-8:30 p.m. In case of rain cancellation, make-up given on Saturday of the same week at 1:30 p.m. Registration Deadline: Saturday, Aug. 1. Registration deadline for an individual session is Saturday before session begins. Program Director: Ojo Thompson.

Amenities:
Tennis Center
Tennis Court (Lighted)
For more information about this park, please contact:
225-343-3767
Upcoming Programs & Events
Get Directions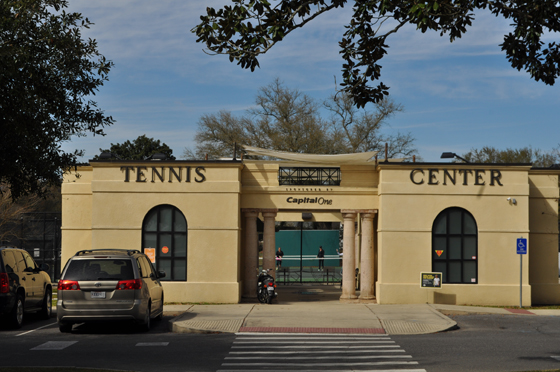 Location:
1515 Dalrymple Drive
Baton Rouge, LA 70808
225-343-3767
Hours:
Mon - Thurs: 8 a.m. - 10 p.m.
Fri: 8 a.m. - 6 p.m.
Sat: 8 a.m. - 6 p.m.
Sunday: 8 a.m. - 6 p.m.